The Care You Need, Now
Life's unexpected medical problems don't follow regular office hours. That's why there's Cooley Dickinson Urgent Care. Offering afternoon, evening and weekend walk-in hours, we treat non-life-threatening minor illnesses and injuries with skill, compassion, and efficiency—advancing your health right here at Cooley Dickinson Hospital.
No Appointment Needed.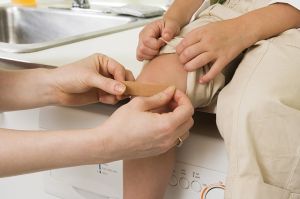 We provide walk-in service for patients ages 2 and up. Our experienced caregivers are here to diagnose and treat an array of medical problems, including:
Cold/flu symptoms
Sore throat
Viral illnesses
Cuts/minor lacerations
Sutures/suture removal
Minor burns
Ear and eye infections
Respiratory infections
Urinary tract infections
Rashes
Strains/sprains
Minor fractures
Incision & drainage of abscesses
Simple removal of foreign bodies
We also provide routine health care services such as sports and camp physicals.
Special Services
X-Rays/Radiology: Combining state-of-the art technology with highly skilled radiologists and imaging technologists, we offer the region's leading diagnostics capabilities.
Lab Services: Cooley Dickinson's Lab/Patient Service Center is accredited by the Commission on Laboratory Accreditation of the College of American Pathologists, affirming our dedication to safe, quality patient care.
Insurance: Cooley Dickinson Health Care is contracted with most major insurance companies. Please check with your carrier to determine whether a referral or preauthorization is required.
Time and Cost
With urgent care, wait times are typically shorter and insurance copays are typically lower than emergency room care. And because we're located right at the hospital, access to medical records and updates is fast and efficient.
Urgent Care in an Ideal Location
Because we're conveniently located in the main corridor of Cooley Dickinson Hospital, we're easy to get to, with fast, on-site access to hospital diagnostic services, as well as the resources of Mass General, one of the top hospitals in America according to US News and World Report.