Overview
"There's no place like home." It's not just a saying, it's a fact when it comes to your health. You're likely to do better recovering from an illness or injury in your home than in a hospital. Likewise, people at the end of life are more comfortable at home, surrounded by familiar faces and surroundings.
At Cooley Dickinson VNA & Hospice, we're here to help you manage whatever challenges you face. For those facing short-term illness or injury, that can mean the specialized assistance of a nurse or physical therapist. For those facing terminal illnesses, that can mean the emotional, physical and spiritual support of everyone from medical experts to therapeutic musicians.
A trained team, ready to come to you
We're fortunate to have more than 100 employees on our hard-working team who are all focused on home-based care. These compassionate, talented professionals made more than 62,000 visits to patients in the last year, providing care and assistance to nearly 2,700 home care patients, seven days a week, throughout Hampshire County and parts of Berkshire, Franklin, and Hampden Counties.
Our team's experts include:
Nurses
Physical, occupational and speech therapists
Social workers
Home health aides
Grief and Spiritual counselors
Volunteers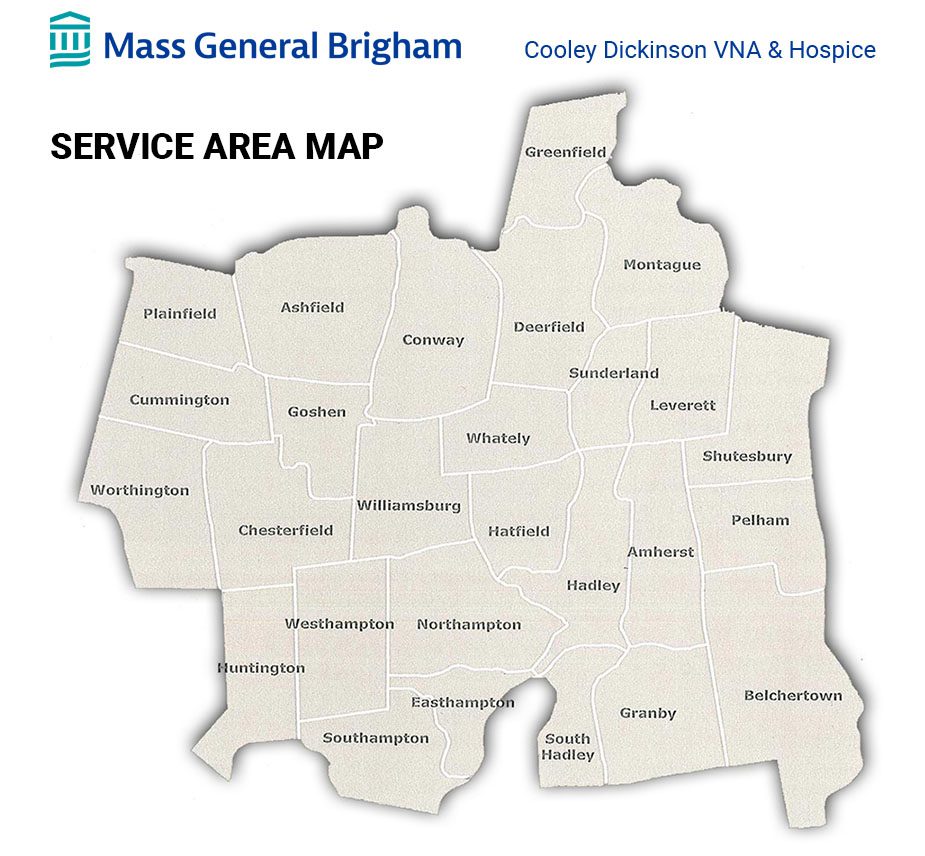 Let's talk about your situation
We know you have questions. We're here to answer them – and help you arrive at a plan that makes sense for you and your loved ones. We welcome you to contact us by phone at 413-584-1060 or 413-582-6477 (for referrals). You may want to make an appointment to meet with us for a personal consultation. We look forward to talking with you.
A history of support
A non-profit, community health organization, the Cooley Dickinson VNA & Hospice has provided high-quality care for the area's residents since 1906. Since 1967, the VNA has evolved and expanded its commitment to home-based care, beginning as the Northampton Visiting Nurse Association and eventually growing to include:
VNA Plus of Western Massachusetts
Hampshire County Home Care Services
Easthampton VNA
Hampshire County VNA
Hospice of Hampshire County
VNA/Hospice Alliance
Our name has changed a few times, but what remains unchanged is our commitment to providing compassionate care in your home.