Hello. We sincerely hope that you and your family are keeping safe during these crazy Covid times.
In an effort to keep our community safe & healthy, The Garden is available via telephone and online for referrals, intakes, consultations, and community resources. Please don't hesitate to reach out! Call Director, Shelly Bathe Lenn at 413 727 5749 or email at slenn@cooleydickinson.org.
Follow us on our Facebook page where we are updating our page with information and links for supporting grieving youth and their families.
---
Since You're Gone
The Garden: A Center for Grieving Children and Teens
The Garden provides support to grieving young people and their families following the death of someone close, including parents, siblings, other family members, or friends. We run programs and host discussion groups geared toward helping young people identify and share their feelings to support their grief journey. There are no limits on how, where, or when the death occurred.
The Garden runs two programs annually at its Northampton location, an 8-week session in the fall and a 10-week session in the spring. The school outreach program partners with schools to support grieving students and staff.
The Garden offers this service free of charge, but it is not a free program to run. We rely 100% on donations from individuals, businesses, and a variety of development activities. The Garden has served over 400 families since it was founded in 1998 by Barbara Weiner-Dubeck.
To learn more about The Garden, contact Shelly Lenn at The Garden at (413) 582-5312 or email us HERE.
If you're interested in volunteer opportunities at The Garden, click HERE to download an application.
VIDEO: Shelly and Dr. Jonathan Schwab discuss ways to share a grieving process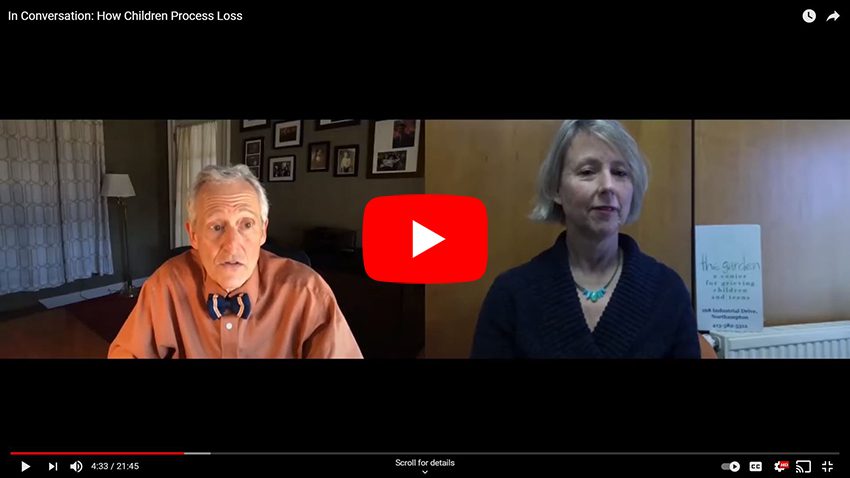 ---
Additional Resources:
The Dougy Center
The National Center for Grieving Children & Families
10 Ways to Help a Grieving Child
From the National Alliance for Grieving Children
National Poll of Bereaved Children & Teens

Give to the Garden
The Garden relies on the generosity of our donors to continue providing services to grieving children and teens.