Art

with

Heart
The Garden: A Center for Grieving Children and Teens – a program of Cooley Dickinson VNA & Hospice proudly presents Art with Heart. Local artists will work with grieving kids ages 5-18 from across western Mass. and make Art with Heart. We believe in reinforcing the connection between the head, heart, and hand to help people express their feelings around grief.
The artwork made in this unique program will serve as a "container" for one's feelings that arise. Artists will lead small-group sessions teaching kids their art medium.
The workshops will be on May 15 and May 22 from 2 – 4 pm. All artwork created will be shown throughout western Massachusetts in different venues throughout 2022 and 2023.
To get involved with Art with Heart, or learn more please contact Shelly Bathe Lenn at 413-727-5749 or by email at slenn@cooleydickinson.org
Meet our Artists
Christine Southworth

Christine Southworth has been a nurse for over 25 years and found that creative play with expressive arts can be the best medicine for enhancing emotional and physical wellbeing. In 2011, she discovered Salve Regina University's Expressive Arts Institute and saw a way to combine her passion for wellness with expressive art to help people relax and heal and also process her own grieving. She has a nursing degree from Holyoke Community College and earned a degree in Health and Wellness Promotion from UMASS. She obtained a graduate certificate in the Practical Applications for Expressive and Creative Arts from Salve Regina University and completed a summer intensive at the University of Buffalo in Arts in Healthcare.
Some of her clients include; Mass Housing and Hartford Hospital's Arts for Healing program. She has done workshops for Rick's Place, The Garden, The Cancer Connection, and The Cancer House for Hope. She also has a studio in Southampton where she creates playful, creative workshops for individuals and groups.
Omarthan Clarke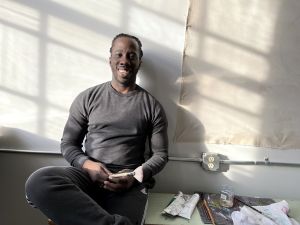 An artist, educator, and consultant, Omarthan Clarke works with organizations and community leadership to cultivate community arts and social justice-based programming initiatives. He hails from the Pioneer Valley's Springfield, MA. Born in Jamaica, and raised in the U.S., he brings with him a plethora of experiences that transcend cultural boundaries. A creative since childhood, Omarthan majored in Art as an undergraduate student at Westfield State University and received his Master's degree in Arts Policy and Administration from The Ohio State University. As a practicing studio artist and an advocate for continued critical thought and practices, Omarthan produces works that create discourse through counter-narratives. Passionate about uplift and social justice, he also serves as an anti-bias programming facilitator for the Anti-Defamation League and supports historically underrepresented first-generation college students to fulfill their academic potential.
Barbara Neulinger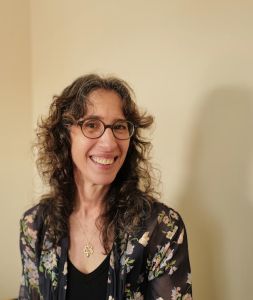 Barbara is a painter, color consultant, and art educator. She grew up in Queens, NY, and earned her BS from Skidmore College and her MFA in painting from Indiana University. She has exhibited internationally, nationally, and locally. Barbara has taught art at the college level and led classes and workshops for adults. As the Art Teacher at the Montessori School of Northampton, she teaches art to toddlers through middle school students. As a Color Consultant, Barbara works with clients to help them find beautiful color solutions for their homes and places of work.
Frankie Borrero

Frankie Borrero suffered a traumatic brain injury in 2013 that turned his life upside down but resulted in rekindling a desire to create deeply personal and compelling artworks. Frankie grew up in a difficult household and as a child used art as a means of escape. Although he was talented in art he pursued dentistry and trained in his academic career. All this changed in 2015 when he was involved in an accident that resulted in a coma and being placed on life support. He's been told by numerous neurologists that his steady and enhanced creativity since the accident is nothing short of miraculous. He still struggles with memory retention and coordination due to the right side of the brain but works incredibly hard to move forward. Frankie is grateful for the second chance he's been given to produce artwork alongside his family and friends.
Calendar of our Exhibits and Receptions
Bombyx Center for Arts & Equity, 130 Pine Street, Northampton – July 2022 with a reception on Wednesday, July 20, 6 pm
Westhampton Public Library, 1 North Road, Westhampton – August 2022
Hampshire Regional YMCA, 286 Prospect Street, Northampton – September 2022
Northampton Center for the Arts, 33 Hawley Street, Northampton – October 2022
South Hadley Public Library, 2 Canal Street, South Hadley – November and December 2022
Art Galleries of Cooley Dickinson, 30 Locust Street, Northampton – January and February 2023
Sunderland Public Library, 20 School Street, Sunderland – March 2023
The Elusie Gallery, 43 Main Street, Easthampton – April 2023
Northampton Center for the Arts, 33 Hawley Street, Northampton – June 2023