RN Case Manager Opportunities
Caring for Patients at Home
Cooley Dickinson VNA & Hospice is expanding to meet the needs of our communities. We are currently seeking RN Case Managers who share our commitment to serving patients with exceptional, compassionate and personalized care. If you are a nurse with home care or hospice experience or are considering a career in home care, we would welcome the opportunity to speak with you!
Why be a VNA Nurse at Cooley Dickinson?
Like all nurses, you want to make a difference in the lives of your patients. As a VNA Nurse, you'll work on the front lines of medical care in the community as a point person for educating patients and their families. You'll also be a willing ear for a story that wants a listener, a pillar of emotional strength for someone who needs just a little more support, and a witness to remarkable lives that may otherwise be eclipsed by loved ones' other responsibilities and the general pace of modern life. In short, you will be incredibly important to a lot of people.
Here are some additional benefits of working as an RN Case Manager at Cooley Dickinson:
Work/Life Balance: Day and evening positions available, 1:4 weekend rotation
Competitive pay and benefits including mileage reimbursement.  For full benefits summary, please click here.
Affiliation with Massachusetts General Hospital and Mass General Brigham
More compact geographic assignments: Closer to home, less driving time
Opportunities for professional development and support for continued education
---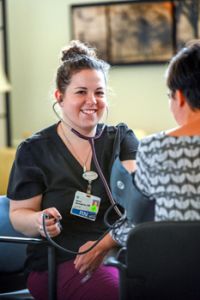 "What inspires me is connecting with the patients in their own home, where they're happier. When you can get them to a point where they live independently again, patients are very thankful."
– Moira Donoghue, RN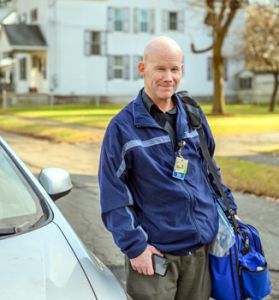 "What makes home health care special is the teaching.When a patient learns how to be independent at home, it's very rewarding. If you like working with people and you like teaching, home health care can be for you."
– Mark Richardson, RN
kjhkjhk
---
Join Us!
Come join other professionals who love the work they do, caring for patients in their homes.
To explore current RN Case Manager opportunities, please contact VNA & Hospice Recruiter Sam Blasiak at sblasiak@cooleydickinson.org or 413-582-2142.
Interested in being considered for future openings?  Join our Cooley Dickinson VNA Talent Network!
Cooley Dickinson Health Care is committed to Diversity Equity and Inclusion.  We embrace diverse skills, perspectives and ideas, and encourage people of color, veterans, people with disabilities, LGBTQ candidates, and people from other underrepresented groups to apply.