Volunteers at Cooley Dickinson
Volunteers at Cooley Dickinson Health Care work in so many capacities. You'll see them in our coffee and gift shops, traveling with visiting nurses and therapists with Cooley Dickinson VNA & Hospice, helping in the organization's many satellite facilities and performing countless small but vitally important tasks in almost every part of the hospital. Our volunteers are the glue that helps hold everyday operations together and the extra smile that can make all the difference in a patient's tough day. We can't thank them enough for donating their most precious and ultimately meaningful asset–their time.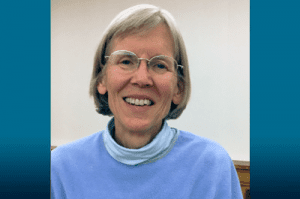 Katie Tolles| Hospice Volunteer, Music Director for The Journey Home Singers
Katie Tolles serves and leads with a quiet touch, but her soaring voice – and her even more soaring heart – lift all who know her with a beautifully strong embrace. As the music director for the Journey Home Singers, Cooley Dickinson's Hospice singing group, as well as one of its singers and patient visit song leaders, Katie has contributed years, skills and countless hours to lead Journey Home as they provide gentle, musical comfort to hundreds of hospice and hospital patients with their soothing, four-part a cappella harmonies. Katie brings her wisdom, dedication and vast experience as a professional musician and music teacher to her leadership of this group of 35+ singers, who come from all musical backgrounds and training.
Since first taking the helm, Katie has been instrumental in managing the group's large repertoire of songs. She works tirelessly to improve its members' vocal performance through warm ups, helpful breathing techniques, tightened listening, improved tuning, ongoing teaching and encouragement. Leading twice-monthly rehearsals throughout the year (with nary an absence), Katie also takes time at home to work out arrangements and preview parts that may be tricky. On any given week, Katie will also respond to the unpredictable calls for bedside sings for patients facing their end of life. These sings can occur day or night, and take place anywhere from Shutesbury to Plainfield, Greenfield to Holyoke, and every town in between.
Katie has a deep personal faith and appreciation for the variety of spiritual paths that others may be on. She is equally respectful of Journey Home members (and their personal journeys), as she is of the families served by the Cooley Dickinson Hospice program and the challenges they are experiencing. One always feels safe and welcome in Katie's presence.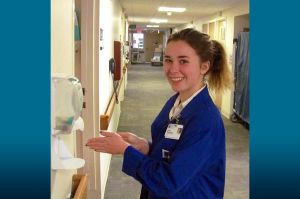 Jenna Margarites | Volunteer: Unit Host
"I enjoy interacting with patients and seeing everyone from the area. They all have wonderful life stories," says volunteer Jenna Margarites. Listening to patients is something that Jenna does well, and she puts that skill to use in her role as a Unit Host.
Jenna helps welcome new patients on the Telemetry unit in this new volunteer program that's currently being piloted. She shows patients how to use their TVs and the many programs that are part of the patient information system, including movies and the channel that offers soothing music. She helps stock the unit, empties laundry bags, and helps answer call bells for non-medical needs. But her real benefit to the program is Jenna's smile and willingness to help.
Working with Ashley Mancini, clinical manager of the Telemetry unit, Jenna helps to define the volunteer tasks for the Unit Host program, which includes outlining the checklist and skills needed and helping to train new volunteers. "It's so nice to have volunteers on the Telemetry Unit," says Ashley. "They help to add that extra touch."
Jenna, a student from Haverford College, is one of the many students with an interest in health care who fill critical roles from Care Volunteers in the Emergency Department to assisting in the Nutrition Services office. Last year, more than 80 students from local colleges volunteered at Cooley Dickinson, which doesn't include the many internships that are also filled by college students.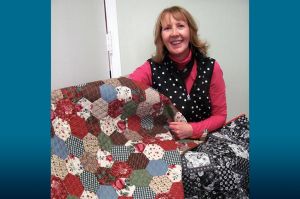 Diane Gould | Volunteer: Quilts and Caring at the End of Life
Volunteers come from many walks of life and continue to support Cooley Dickinson and their community even when their situations change. Volunteer Diane Gould is Senior Vice President of Human Resources at Florence Bank. For 7 years she brought her therapy dog to the hospital for patients to enjoy on North 3. However, her canine companion suffered some health issues and was no longer able to continue as a therapy dog.
Determined to find a way to continue to help, Diane started making quilts for patients. These quilts are requested by Cindy Baecher, a nurse educator on the Critical Care and Telemetry units, who uses them for patients here at the end of their lives. Patients' rooms are transformed with a warm light and a quilt on their bed. Families as well as patients are comforted by the more home-like environment. After their loved one passes, the quilt is given to the family. "These quilts have been so important. They hold the final moments of that person, and the family cherishes them," says Cindy.
Diane's quilts bring a very special kind of caring at a critical time in patients' lives. "I love the purpose of the program and knowing that it's for a special cause. It's meaningful for families in a difficult situation and that inspires me," notes Diane.
She joins a cadre of crafter volunteers who provide meaningful support to Cooley Dickinson. From stuffed Hug-a-bears for children in the Emergency Department, to knitted baby hats for infants in the Childbirth Center, volunteers make amazing contributions every day.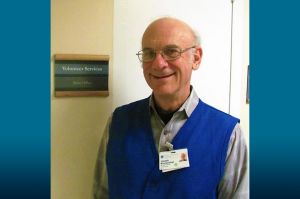 Joe Blumenthal | Volunteer: Sacred Music for Healing
If you are on North 3 some evenings, you may hear the faints strains of a song floating out of a patient's room. There you will find Joe Blumenthal and a small group of singers. Joe, who owns Downtown Sounds, a well-known local music store in Northampton, recently joined Cooley Dickinson as a volunteer. He is helping to coordinate a new program that brings healing music to patients' bedsides. This program was initiated by Carole Bull in the Pastoral Care department who had a vision of providing music as an additional mode of healing for patients at CDH. The singers are Hospice Volunteers who also sing for Hospice patients as part of the Journey Home singers, and are adding to their community outreach by bringing music to the hospital.
"So many patients really appreciate having someone sing to them. It's gratifying to be a part of it," says Joe. He touches base with each patient to determine if the music is welcome, and describes the program to the patients. Sometimes patients just listen, but often they sing along.
Music is an important way volunteers provide a special support to patients. It's all part of reaching out with that individualized personal touch that Cooley Dickinson is known for.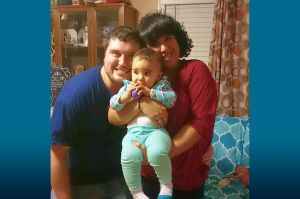 Nicole Latham | Volunteer: The Garden
Each year The Garden: A Center for Grieving Children and Teens works with many phenomenal adult volunteers. These folks contribute four hours every Sunday, and are typically the first to arrive and the last to leave. One such volunteer is Nicole Latham. Nicole co-plans and co-leads activities, projects and games for young teens. For example, working with the theme of "Dreams, Worries and Nightmares," her group made a Self-Care Toolbox for Worries.
"I found out about The Garden through my advisor at Elms College," she writes. "He suggested that we try to volunteer or gain an internship that is closely connected to our interests in the field of Psychology. When I found out The Garden helped children and teenagers, I really wanted to volunteer there. Volunteering at The Garden has been such a wonderful experience, and the children and teens we work with are just as wonderful."
There are a few things that set Nicole apart. First, she is a new mom. Her beautiful daughter, Alice, just turned one last month. She is also a full-time student at Elms College studying psychology. Lastly, she has personal experience dealing with both her father's and mother's deaths. For many people, the pangs of personal resonance might keep them from volunteering in the community in this capacity – but not Nicole! That she has chosen to volunteer in an area where she has experienced so much is an incredible gift to the program. We salute Nicole's commitment to all the families at The Garden.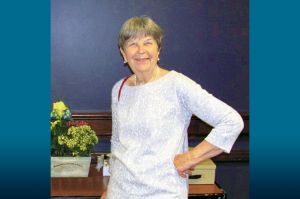 Nancy Flickinger | Volunteer: Hospice Shop
Nancy started volunteering at the Cooley Dickinson Hospital in the mid-1970s as a way to meet people in her new community of Northampton. Since donning the pink jacket back in the day, she has volunteered in the admitting and maintenance departments, and on the Volunteer Luncheon Committee. She has served the Friends of Cooley Dickinson (formerly the Auxiliary) on fashion shows, purse sale fundraisers, Trees of Love campaigns, the Annual Award ceremony, and pretty much anywhere she has been asked to help. A few years ago the Hospice Shop convinced her to volunteer there, too. Because, as so many of you know, if you want to get something done, ask a busy woman!
At the Hospice Shop, Nancy volunteers her time by serving on the jewelry team and as a Board member. Recently, Nancy was persuaded to chair the Hospice Shop Board. She is quick to help customers, and is adept at pricing and merchandising items. (Little do you know that while she is talking with you she is quietly recruiting you as a volunteer). Just try and tell her you are too busy! Nancy is just one of several dedicated volunteers who help at both Cooley Dickinson Hospital and at the Hospice Shop.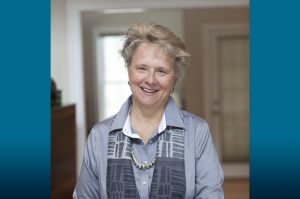 Lynne Spichiger | Volunteer: Hospice Care
There are not enough words to capture all that Lynne Spichiger has given to Cooley Dickinson VNA & Hospice. As a devoted volunteer for over 14 years, Lynne has touched the lives of hundreds through her many forms of engagement. From companioning hospice patients and sitting vigil with the dying, to providing respite for caregivers, running errands and supporting the Hospice team with her superb administrative skills, Lynne is a "volunteer's volunteer."
Lynne's active leadership with the Journey Home bedside singers program illustrates her generous dedication. In addition to singing with the group and being a member of the Steering Committee, she also volunteers as a 'sing coordinator' – working with hospice families to customize a repertoire of songs for bedside sings, assembling groups of singers for home and hospital visits, and meticulously documenting each visit for patient records. Lynne is also a wonderful spokesperson for our Hospice and Palliative Care programs, drawing on her extensive experience as both a volunteer and as a caregiver/receiver of our services, and has organized skill-building workshops, retreats, articles and publicity on our behalf. Lynne's outstanding volunteer efforts can best be described by others:
"I have never worked with anyone (professional or volunteer) who so cheerfully gives of their time and talent. Lynne's generosity is matched only by her profound compassion towards our hospice patients and their families. It has been a privilege and a blessing to work with her in her many capacities". 
– Kathi Bangert, Founding Inspiration for Journey Home Singers
"As an eloquent speaker at our community outreach and education presentation, Lynne represents the heart and soul of our hospice tradition, with her roots firmly planted in our community."
– Ben Tousley, M.Div., Spiritual Counselor, Cooley Dickinson VNA & Hospice.
"Lynne is a marvelous, can-do person who is filled with good ideas and ready for engagement in community education activities like our Being Mortal community discussions,"
– Dr. Jeffrey Zesiger, former Director Hospice and Palliative Care for Cooley Dickinson Health Care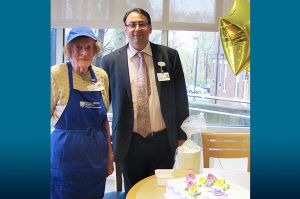 Margaret Carney | Volunteer: Coffee Shop
Margaret Carney has volunteered in the Coffee and Gifts shops at Cooley Dickinson since 1995. A resident of Amherst, she drives to CDH twice a week to fulfill her commitment. She is always friendly and warm to everyone, and has given over 9,000 hours. More importantly, Margaret is a role model for all of us. She turned 90 on April 25th, 2017. Margaret is pictured here in the Coffee Shop with Tony Scibelli, Vice President of Operations and Administrative Services.
"If I'd known it was going to be this exciting," she says, "I would have done it sooner!"
Thank you Margaret for all you have given to Cooley Dickinson!